April 16 2013
3
16
/

04
/

April
/

2013
13:22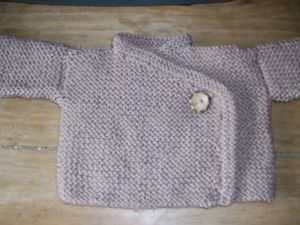 Easy to fit to baby, not over the head, no fiddly buttons or complicated popper system, quick and easy knit, only 1 ball of DK required.
Cast on 110 stitches (sts). Knit (K) 35sts and place marker (PM) (right front), K 40sts PM, K 35sts PM (left front).
Continue K until work measures 11cms, create button hole, K10sts yarn over and knit 2sts together, this creates a hole and the missing stitch. K for a further 2 rows. The side that the hole is created can be changed depending on if you are knitting for a boy or girl (boys left, girl's right).
Divide work as per markers (40sts on spare needle, 35sts on spare needle). Work right front sts by casting off 1stitch at the end of the row, this creates the arm hole openings and gusset. K to end. At the beginning of the next and following alternate rows cast off 2sts, this creates the neck opening. Continue until work measures 16cms, cast off remaining sts.
Work 40sts for back. Cast off 1 stitch at end of row for 2 rows then knit normally until work measures 16cms, cast off remaining sts.
Work remaining 35sts for left front as per right front.
Sleeves – Cast on 27sts, K until desired length or 10cms.
Band – Measure work and times by 2 (2sts = 1cm), I casted on 110sts and knitted 3 rows. Alternatively you can pick up sts along front edges and knit 3 rows.
Sew together sleeves and attach, sew along shoulders, attach band if required, secure button place.
You will need to create cords for tying. Either crochet a chain in desired length or knit a few rows.