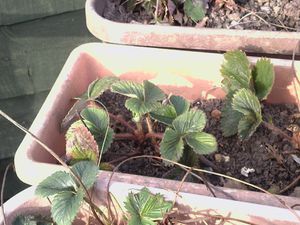 We have decided to grow our strawberry plants at the house. The benefit of this is that we can use the greenhouse for protection if required and to elongate the growing season. Also strawberries thrive in well-drained soil they do not grow well in heavy wet soils and will be prone to Red core fungus. This fungus attacks strawberry plants, resulting in red-brown leaves. The only way to eliminate this fungus is to burn the affected plants and to not plant strawberries in the same site again.
Not a recipe that you would expect with strawberries. Try Jamie Oliver's strawberry salad with speck and halloumi
Drizzle your own grown strawberries with balsamic vinegar, the juice of ½ a lemon, extra virgin olive oil, salt and pepper.
Heat a frying pan with a little oil, add 250g of halloumi cut into thin slices until golden.
Serve halloumi and pile salad on top and drape the speck over the top.