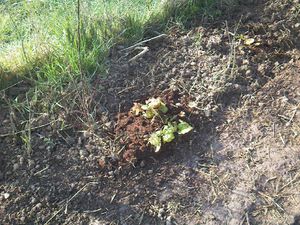 Rhubarb is a hardy perennial. It needs a cold snap in the weather to break its dormancy and it is possible to force rhubarb in to growing new shoots by covering the plant. I have never had any success in forcing rhubarb as the new shoots always seemed to come up weedy. It is best to continually harvest rhubarb but leave some shoots on the plant to keep it in active growth.
Glossary ~ Perennial ~ a plant that comes back year after year
Don't just make a pie or crumble with it try something different…a cocktail
Place 500g of your own grown rhubarb, 100g of sugar and ½ the juice of an orange in a sauce pan. Simmer for a few minutes. Pour into sieve over a bowl allowing the liquid to drip through. Use the rhubarb pulp to make a pie.
Add the rhubarb juice to 2 shots of vodka, ½ a shot of Galliano, ½ shot of double cream, ½ a shot of milk and a handful of ice in a cocktail shaker. Shake and serve.