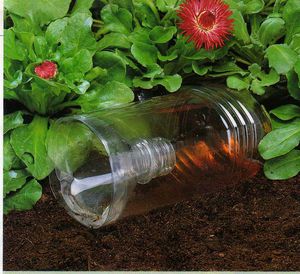 Slug traps
Any gardener has his or her own war on slugs, short of going out at night with a torch and collecting them up for salting there did not appear to be a cheaper alternative to these pests…until now. I first saw this in the Gardener's world magazine and have since been making them every year, once the slugs slide inside they are trapped. Because this trap costs very little to make the whole thing including the slugs can be disposed of.
All you need is an empty plastic drinks bottle and some beer.
Mark a line around the neck of the bottle just below the neck.
Using a Stanley knife cut around the bottle and retain both pieces.
Invert the neck of the bottle and secure to the base with a couple of staples.
Pour the beer into the trap and position it under a 'favourite slug plant'.