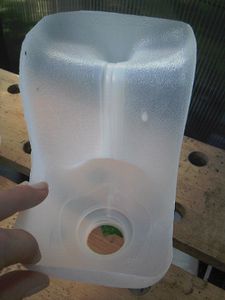 Milk carton plant pots
I am all up for recycling. You could save your empty plastic milk cartons and give them back to the council for them to do whatever they do with them or….
You could make plant pots out of them.
This is not my idea, I have stolen it from a Gardeners World episode www.gardenersworld.com , but it is none the less genius.
Cut along the conveniently marked edge (it is almost as though milk companies want us to do this with their cartons)
Place the lid half upside down inside the base the half
Half fill it with compost, the plant and then more compost
Water down the hole; this gets water right to the base of the plants. It couldn't be better.
These pots will stand-alone or can be hung for growing trailers.