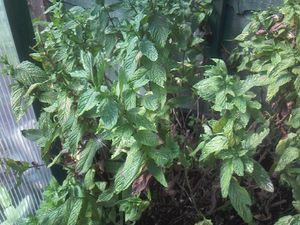 Not just something that you add to a glass of Pimm's or in your Mojito, mint has been used for years due to its medicinal properties. Menthol, which is found in mint leaves are used in commercial preparations to treat irritable bowel syndrome, alleviate wind, colic, indigestion and heartburn. Simply brew mint leaves in hot water for 5 minutes and drink.
Mint has been brandished with the title 'invasive' however not all varieties are. To be on the safe side I grow my mint in a pot, the plant and pot can be dug into the ground if you are creating a herb garden and repot every autumn.
Plants need well drained soil and a sunny spot. Cut the leaves back after flowering for a fresh supply in autumn.