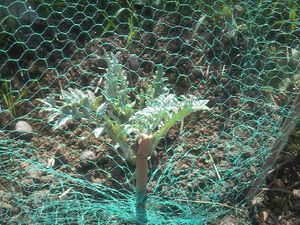 The globe artichoke's leaf extract stimulates bile production of the liver, which in turn assists with the digestion of fats. Studies have shown it to be effective in reducing the symptoms of irritable bowel syndrome. Artichokes contain antioxidants and prevent the production of lipoproteins thus reducing cholesterol and minimising the risk of heart attacks.
James Wong's artichoke medicine
Fill a jar with own grown artichoke leaves and cover with vodka. Seal and leave for 3 weeks shaking occasionally. Strain and take 30 drops twice a day.
I acquired my plant some years earlier which although had been a healthy plant confined to a pot never really grew to a good size during its growing season. The globe artichoke is a beautiful silvery plant. Globe artichokes are perennial vegetables; they require soil which is not too light and plenty of organic matter. It now takes pride of place in the corner of the kitchen garden which is where the manure pile was so hopefully it will flower this year.
Stuffed globe artichoke
Trim and boil your own grown globe artichoke in salted water for 20-40 minutes or until the leaves pull out easily. Drain and remove the inner leaves and the chokes.
Fry ½ a small onion and 2 mushrooms in butter then add 15g of butter, 50g of cooked ham, 2 tsps of breadcrumbs, a beaten egg, salt and pepper. Spoon mixture into artichoke centres. Place in oven proof dish and bake for 10-15 minutes at 190˚c.