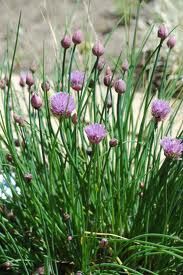 Chives reduce blood pressure, stimulate digestion and are high in vitamin C. They should never be cooked but can be used as garnish or mixed with cheese (low fat of course).
Chives are from the allium family, the same genius as onions and garlic.
Seeds can be sown in March and require a chalky soil and plenty of sunshine. Alternatively you can lift and divide a larger clump. These also make good plants for the kitchen window-sil.
Harvest from April onwards and they can be frozen.