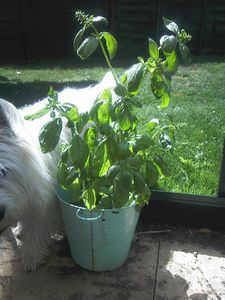 Due to Basil's mild sedative effects it is often used for treating nervous irritability. Research supports its hypoglycaemic properties. It may also improve concentration and memory and due to an antiallergic effect it may help suffers of hayfever ad asthma.
Basic is a natural disinfectant and can be used to make a household spray. In addition by placing basil close to the door it will deter flies.
Basil is a half hardy annual and prefers a warm sheltered site with well-drained soil. I grow my Basil in the greenhouse during the summer months and on a window sill in the winter.
Basil likes to be watered regularly but not over watered. Pinch out the flower heads to prolong its life and promote bushy growth.
Don't cheat and buy them from the supermarket, these plants are so tightly packed they to do not last. If you really can't be bothered to faff around with seeds then split the supermarket brought plants into 2 or 4 separate plants and repot, they will last much longer this way.
Basil freezes well although it does discolour.
Glossary ~ Hypoglycaemia is where a person's blood glucose levels are too low as in diabetes.
Italian salad
Slice tomatoes, mozzarella and arrange fresh basil on a plate. Season and drizzle with olive oil.