February 23 2012
5
23
/

02
/

February
/

2012
14:33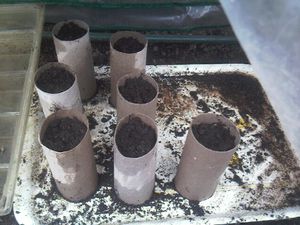 Broad beans are thought to be a helpful in the treatment of water retention and obesity, thus improving kidney function. Broad beans are low in cholesterol and are therefore helpful in the management of heart disease. Broad beans are rich in choline which can aid memory and maybe useful with suffers of Alzheimer's. Also broad beans are said to be an aphrodisiac, eat them to boost your sex drive at the very least they are rich in vitamins and minerals.
We planted one broad bean seed to one toilet roll tube filled with soil. The idea of this is that the broad bean can establish its long tap root and be planted with the toilet roll tube in situ if required which will rot down in the ground.
Sow from March (February in milder areas) through to mid-July 5cms deep and 23cms apart and harvest mid-June through to October.
Broad beans are annuals and prefer a moderately fertile soil.
To eliminate aphid attack remove growing tips when plants come into flower.
Glossary ~
Annual ~ A plant that grows for a season then dies
Another Jamie Oliver recipe for incredible smashed peas and broad beans on toast
Pod your own grown peas 150g and broad beans 250g. In a pestle and mortar bash the peas with half a bunch of fresh mint with a pinch of salt. Add a few broad beans at a time. Add a few tablespoons of extra virgin olive oil and three quarters of the juice of a lemon.
Toast 4 slices of sour dough bread and rub with a garlic clove. Top with the smashed peas and a ball of mozzarella.
Yum!!!!