July 30 2012
2
30
/

07
/

July
/

2012
15:30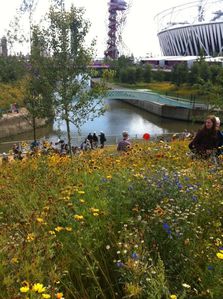 London's Olympic park gardens cover 111 acres. The gardens were designed by a British landscape company British LDA Design and the American company Hargreaves Associates. The planting design was led by James Hitchmough who specialises is in perennial planting, Nigel Dunnett whose focus is on annuals and Sarah Price who was the designer and gold medal winner of the Telegraph garden at Chelsea flower show.
The main concept of the gardens was to ensure that they would be sustainable for future use of the site. In the main plants that would be in flower for the start of the games were used although some spring flowers were incorporated. Flowers were deadheaded to ensure that they were in full bloom throughout the events.
There are four gardens running in sequence and forming a timeline. The regions each garden represents are
Western Europe, The Mediterranean and Asia Minor,
The Temperate Americas.
The Southern Hemisphere; South Africa, Australia, New Zealand.
Temperate Asia, particularly Montane China, Japan and the Himalayas.
The gardens are composed of three main elements: clipped formal evergreen hedges that create a permanent structure; strips of ornamental grasses or perennials and the 'field' planting.


The Western Europe Garden consists of the field of dreams which is a wildflower meadow of blue cornflowers and golden tickseed. The field is a mixture of perennials laid out randomly.
The North American prairie garden consists of grassland and summer and autumn flowering herbs including Asters. Prairie's are packed with plants for wildlife which supply nectar and pollen.
The South African section consists of pink echinaea and yellow rudbeckia. These plants flower during the summer months and grow between grasses. Flowers that stick up in the air on the ends of tall stems makes them stand out to birds and insects. These plants are tender in Britain's climate.

The Temperate Asia Garden focuses on the herbaceous plants of the woodland glade, forest edge and grasslands. There are cultivars of Japanese anemone, Hostas, Irises, and drifts of Tiger Lilies.