March 12 2012
2
12
/

03
/

March
/

2012
15:10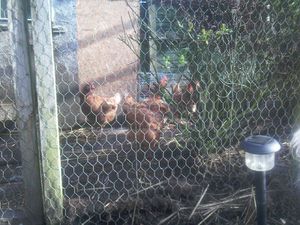 There are strict guidelines as to the amount of space a battery hen should legally have. Generally a chicken should have an enclosure to protect from bad weather and predators. Ideally they should have enough space, including a fair size run for them to move around in, scratch, dust bath, feed and drink and room for them to get away from one another hen if pecked. The size of the house and run needs to be relative to the number of chickens you want.
You may opt to allow your chickens to roam around in the garden, however overtime they will spoil it. A portal run allows chickens to be contained over fresh ground every couple of days. The quality of the wire is a factor when considering predators as cheap thin wire is no deterrent to Mr Fox. Foxes and rats will dig under runs and houses, a solution to this is to raise them off the ground or bury the wire at least 6 inches under the ground.
Chickens require a small amount of food per day and will be happy to eat most kitchen scraps. They will need a fresh supply of water and there are some useful feeders which keep things tidy. In exchange for a small amount of food most hens will provide you with 1-2 eggs per day, depending on the time of year.