May 4 2012
6
04
/

05
/

May
/

2012
11:22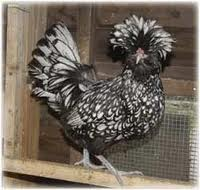 Kornelia is a Silver laced polish chicken. We have given her this polish name, as its meaning is 'horn'. This is because of the terrible cluck she has which sounds like she is being strangled.
Despite the name, this breed originated from the Netherlands. These chickens are bred as show birds and are not known for their broodiness. Feathers cover their eyes, making their vision poor, resulting in a poor temperament.
Polish chickens feed from January to September on grain, cottage cheese, celery and spouts; from February to May on grain, egg, greens and fruits; and from August to December on greens, veg and grain.
Much like the Silkies these chickens are fair layers, laying around three small, mainly yolk eggs per week.