April 16 2012
2
16
/

04
/

April
/

2012
13:19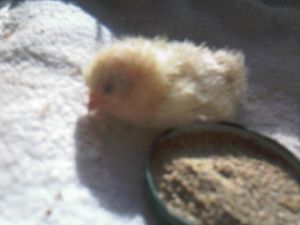 Hatching eggs, in my experience can be a frustrating due to the amount of variables involved and yet a rewarding experience when you do get it right. I am not known for my patience, and although the time to hatch is relatively short the temptation to fiddle with the eggs is often all too much.
Incubators are not cheap products and you should probably purchase the most expensive one you can afford. At the very least it should fan assisted, this circulates the air and dries your chicks out (like a hair dryer) when they hatch. It should also contain a water container to create humidity.
Candling was a great mystery when I first got started. There is little point looking at your eggs before 7 days. As a midwife I thought that I would be fascinated by the whole embryonic stage but seeing a little black blob (the foetus) dart around the eggs made me want to drop it. You can see more at 14 days, blood vessels and a large black mass (the foetus) usually down one side. It is now that I make the difficult decision whether to give up on the eggs that have not matured since I last candled. What if they are still alive? Versus what if they are dead and explode over my other good eggs?
Eggs need turning and I turn my eggs 5 times a day. It is a good idea to turn them an odd number of times so that they end up overnight on a different side to the night before. 3 days before your hatch date, you stop turning, top up the water humidifier and wait. Lockdown has commenced no turning, no candling, and no fiddling.
As the days go past you begin to think that they are not going to hatch, searching the internet for reasons why you have failed your chicks and all you find are other people discussing their hatchings….frustrating.
Sitting quietly on the computer I suddenly heard a chirping sound coming from the incubator. I had read that this was the case but as I say, I had pretty much convinced myself that they had died. After my sister and me deciding that I wasn't hearing things or a bird outside, she chirped back and it chirped back at her. We then saw the crack in the shell. I ran down the garden shouting 'we have to finish the chicken coop a chicken is hatching' (the reality is it will be weeks before it can go in there, if it gets out of the shell). It started with a tiny hole, stopping for a while, my sister chirped; it chirped back and started breaking again. It was as if it had a tin opener inside there as it cracked a complete line and pushed it with his feet to open the bow doors. We all stood around the incubator shouting words of encouragement, just like in an human birth, it must of sounded crazy!. During my days of reading about ill chick's I had read that, some people assist chicks out of the shell, or it taking an hour. I was preparing myself to help it out of its shell, but there was no need it was all over in about 10 minutes, Brian was born.
He was an initial shock, not at all cute and fluffy as he staggered around the incubator. Within an hour or so, he was dry and looking much more chick-like, ready to be transported into the nesting box.
Out of 6 eggs I only got one chick, although I consider it to be a success, it is easy to see how failed hatchings can cause despondence. At 2 days old, Brian is already very tame. If you place your hand in the nesting box, he will jump into it and the only way to hear the TV above his chirping is to sit and cuddle him.
I now truly have the bug, spurred on by little Brian I have 6 Lavender Milefleur eggs on their way to me. Fingers crossed we get some mates for Brian.