January 31 2012
3
31
/

01
/

January
/

2012
13:23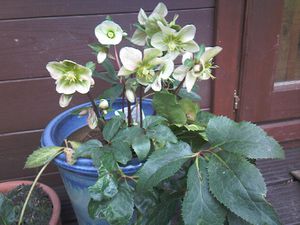 The helleborus is sometimes known as the Christmas rose, probably because when there is little else growing in the garden at this time of year, you can count on these beautiful flowers to be in full bloom.
Hellebores are native to the mountains of Europe from alpine slopes to sheltered woodland areas.
These evergreen perennials flower from midwinter to spring bearing the loveliest of flowers that flush with age. Its deep green basal leaves persist throughout the year.
The helleborus is happiest in dappled shade and in any good moist soil. It will tolerate some weak winter sunshine.
The plants old leaves should be trimmed away to display emerging flowers.
Plants will appreciate a feed with a general fertiliser and mulch with organic matter also at this time of year. Watering is seldom required.
Beware of slugs and snails feasting on the foliage, raised beds and pots may be of benefit.
Hellebores can be cultivated from seed, given a cold snap to break the seeds dormancy. Gloves need to be worn when collecting hellebore seed as they may irritate the skin.
A fungus, which causes the leaves to develop brown blotches, causes hellebore leaf spot, the leaves turn yellow and die and petal may show black spotting. Affected plants must be destroyed; there is no fungicide for this disease.
A fungus and results in pale yellow spots developing on the upper leaf surface cause downy mildew. Affected plants must be destroyed; there is no fungicide for this disease.
Hellebore black death is caused by a virus. The stems, leaves and flowers are distorted with black streaking. Affected plants must be destroyed.