December 21 2012
6
21
/

12
/

December
/

2012
13:39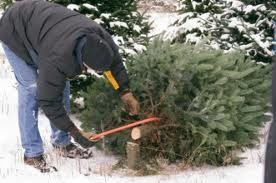 Cutting down a Christmas tree to bring into your house is probably not the most ecological thing you could do. Every year numerous trees are hacked down, brought into our warm homes and we spend the next few months hovering pine needles from the carpet.
I have yet to see a convincing fake Christmas tree; however a good plastic tree and a 'woodland pine' air freshener may be an alternative. Although they are usually made from non-biodegradable PVC, use fossil fuels and release harmful gases into the environment in their production, transportation and disposal. At least real trees absorb carbon dioxide during growth rather than giving it off. And, of course, they are biodegradable, so recycle your tree.
Christmas trees grown on tree farms, rather than forests are replaced as harvested, and create domestic jobs in both production and distribution.
It is also possible to buy 'living Christmas trees', sold in pots with roots and soil. These trees are usually small and expensive which is due to the fact that Christmas trees take up to ten years to fully mature. A living Christmas tree will not appreciate being brought indoors, the warm indoor climate may bring the tree out of its winter dormancy, leaving it no protection once back outside.
You could decorate a tree that is growing outside, and can remain growing long after the Christmas period has passed. Pick a tree, or bush close to the house so you can admire the twinkling lights through the lounge window.