April 18 2012
4
18
/

04
/

April
/

2012
11:18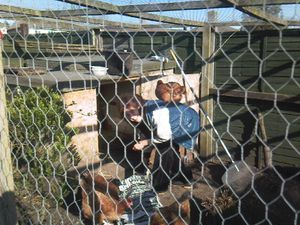 One of the best things about chickens is their emotional compatibility with humans. They like human contact, snuggling and walking all over you if you sit on the ground. If a chicken wants attention it might peck you or jump on your head.
Much like dogs there is always an alpha chicken. Chickens like to scratch at the ground digging up your plants, laying eggs in strange places and escaping from time to time.
Handle your chickens frequently, starting when they are small, feeding them by hand. Depending upon the breed and temperament, they will reward you, not only by a regular supply of eggs.
There are a lot of people reading the blog who I can only assume are attempting to hatch a chicken to start or increase their brood. I can honestly say that small breed chickens really only need a small area, normally the size of a rabbit run and cage and are far more rewarding than a rabbit or guinea pig. More and more people are turning to keeping chickens due to the price of eggs. With the Government, clamping down on battery farms (quite rightly) this will only get worse. Depending on the time of year, most chickens will provide 1-2 eggs per day, which you can eat or gather and sell to your neighbours.